Chinese companies look to listing destinations with capital tight at home and abroad
11.08.2022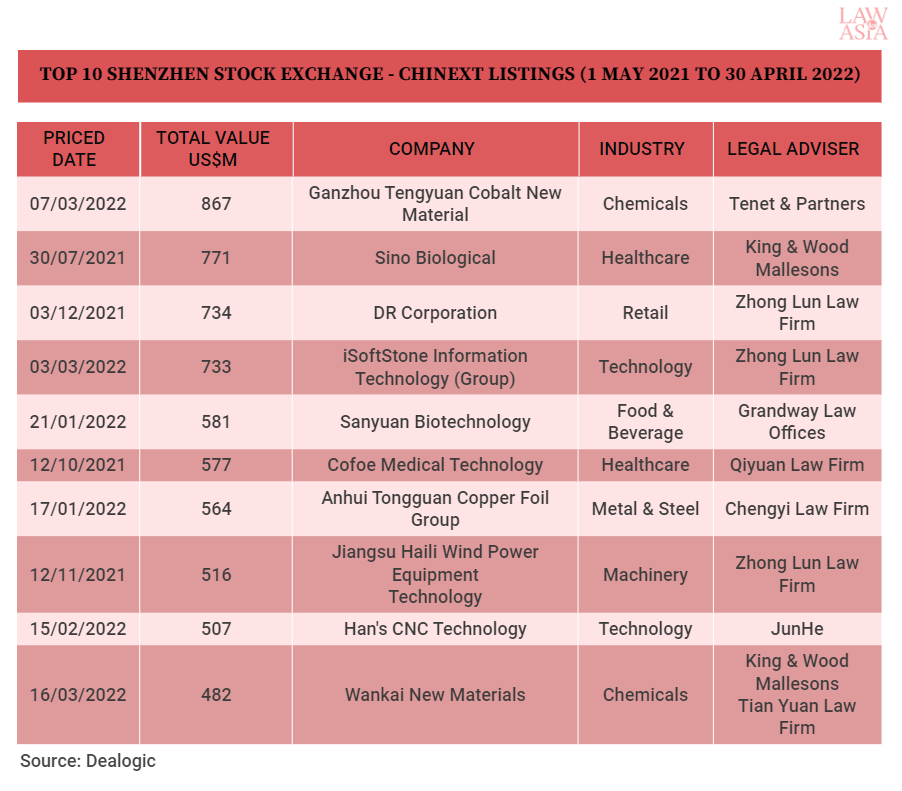 Pandemic waves and escalating geopolitical storms have cast a shadow over the globe, China's capital markets have followed a long, hard road since 2021. While opportunities like the newly minted Beijing Stock Exchange and a package of significant policies have been unveiled to deepen the opening-up and interconnection of markets, uncertainties including the twists and turns of global economic recovery and the US Federal Reserve's consecutive hikes of interest rates have made positive progress challenging.
US-listed Chinese companies have come under the spotlight recently with the adoption of final amendments to the US government's Holding Foreign Companies Accountable Act (HFCAA), 2020, in December last year. The law requires companies listed on US stock exchanges to declare they are not owned or controlled by the Chinese central government. With the final rules, the US Securities and Exchange Commission (SEC) has established a process by which it will impose trading prohibitions.
The HFCAA was introduced in 2020, and certain rules in 2021 amended the 2002 Sarbanes-Oxley Act. The amended Sarbanes–Oxley Act requires companies to disclose information on foreign jurisdictions that prevent the Public Company Accounting Oversight Board from conducting inspections.
The PRC regulatory regime for overseas issuance of listed securities was issued in 1994, revised in 2019, and supplemented by various rules that generally were still in draft form in 2021.
The SEC has been identifying affected issuers after annual reports were filed for 2021. Liu Zhen, head of the China practice and a member of Gunderson Dettmer's global management committee, says the regulatory move's significance is more evident in procedure than reality. She says the SEC's list is predictable and it is too early to over-interpret the move.
Discussions over details of an audit deal between Chinese and US regulators have shown both sides are more willing to co-operate than be in conflict. The rhetoric is softening and there are prospects of reaching an agreement, says Liu. However, she advises relevant listed companies to maintain a clear mind and a sense of urgency.
Chinese companies traded in the US could face expulsion from US exchanges as early as 2024, after three consecutive years of non-compliance with audit inspections. Given that matching, adjusting and honing the two countries' regulations and detailed provisions takes time, coupled with coronavirus pandemic challenges to the timetable for all cross-border collaborations, US-listed Chinese companies don't have the luxury of time.
Won Lee, Hong Kong-based Asia capital markets team leader at Shearman & Sterling, says that, in addition to the HFCAA, there are other regulatory risks for US-listed China-based companies. On the US side it is heightened disclosures and, on the PRC side, increased regulatory scrutiny on "foreign" listings by China-based companies. Both continue to support a trend for "homecoming" listings of China-based, US-listed companies.
Lee says China-based companies that pose cybersecurity risks, or use variable interest entities (VIEs) face regulatory approval requirements that have made it almost impossible to list in the US. That has been a specific focus for the SEC, which has taken the extra step of requiring companies with operations in China (not only China-based companies) seeking to list in the US to disclose whether PRC regulatory approval is required and, if so, whether approval has been obtained.
Chen Zejia, a partner at Jingtian & Gongcheng based in Shanghai and Hong Kong, advises Chinese companies planning US listing to re-evaluate their suitability by considering their nature of business, financial position, growth momentum, compliance and financing needs.
As for China concept stock companies already listed in the US, Chen points out that they should make preparations for a possible migration back to Hong Kong, or to alternative markets such as Singapore.
Lorna Chen, Asia regional managing partner, head of Greater China and a member of Shearman & Sterling's executive group, advises companies to continue paying attention to key issues affecting the market.
"They should also be mindful of continuing regulatory uncertainties in China, particularly in sectors such as education, technology and digital assets," says Chen.
Greg Liu, a partner at Paul Weiss' offices in Beijing and Hong Kong, says that under new cybersecurity regulations in China which became effective on 15 February 2022, a foreign listing of a network platform operator that has the personal information of one million or more users is subject to cybersecurity review co-ordinated by the Cyberspace Administration of China. Liu has seen some of those companies seek Hong Kong listings instead of US listings, and he continues to see US-listed companies seeking secondary listings in Hong Kong or considering take-private transactions and other alternatives.
Jia Haibo, a Shanghai-based equity partner at Zhong Lun Law Firm, believes the homecoming of US-listed Chinese firms will continue to be a big trend in coming years. For their homecoming destinations, Jia says there are multiple differences between the A-share and Hong Kong stock markets including listing rules, listing thresholds, disclosure requirements and review standards. Compared with the stricter listing mechanism for A-share markets, the Hong Kong stock market is more inclusive, thus becoming a preferred option for US-listed mainland companies.
Given the majority of US-listed Chinese companies are new-economy firms with red-chip structures, and the Hong Kong stock market is similar to international capital markets, US-listed mainland firms face relatively less difficulty and lower costs of conversion in returning to Hong Kong. Therefore, US-listed mainland companies tend to select Hong Kong as a go-to destination, says Jia.
To return to Hong Kong, currently dual listings are done via secondary listings or dual-primary listings. Wanda Woo, a Hong Kong-based partner at Shearman & Sterling, says: "Companies with a dual-primary listing status will automatically be treated as primary-listed in Hong Kong when they drop their US listing status, while those with a secondary listing status will need to convert to a primary-listed company if they wish to remain a publicly tradable company and have no other listing status elsewhere."
However, Woo adds that US-listed mainland China-based companies which have a weighted voting rights structure may have a harder time getting primary-listed in Hong Kong because of the recent market downturn, given the market cap requirements in the HK listing rules for companies with weighted voting rights structures.
The release of a package of measures and guidelines on further implementation of the depository receipt business under the Stock Connect scheme between domestic and overseas stock exchanges carves out a new path for the two-way opening-up of the country's capital markets.
Guo Xiaodan, a Shenzhen-based equity partner at Zhong Lun Law Firm, says implementing depository receipts business will give a leg-up to the "going global" strategy of Chinese enterprises and help to lure foreign investors. In particular, the mechanism adjustment has addressed thorny issues such as an inability to raise funds with a Chinese depositary receipt (CDR) issuance.
"Previously, neither the Shanghai-London Stock Connect scheme nor a pilot programme launched in 2018 to support innovative companies' domestic listing and issuance of CDRs have endowed the CDR issuance with a financing function. This has discouraged issuers from offering CDRs," says Guo.
Liu Wei, executive partner at Grandall Law Firm based in Shanghai, highlights the following unresolved issues:
Interim measures launched by the Shanghai and Shenzhen stock exchanges in March this year for offering CDRs stipulated that overseas issuers should have been listed on the overseas stock exchange for at least three years. Given today's rapid technological change, that provision is increasingly outdated, denying Chinese investors access to many tech firms that have rapidly growing valuations;
Although the rules give freedom to CDR issuers to elect whether to keep the proceeds in China or send them abroad, in reality it is difficult for issuers to send capital raised abroad in the short term due to a constantly changing, bewildering set of circumstances in the foreign exchange market. This may impair a company's efficient capital utilisation; and
Global depositary receipt (GDR) issuers, and the personnel of financial intermediaries' entry into or departure from China, have been restricted due to ongoing anti-pandemic requirements across the country. Consequently, there has been no successful GDR offering this year.
Ge Yin, head of the cross-border asset management practice at Han Kun Law Offices in Shanghai, says many domestic companies opt to pursue secondary listings in Switzerland. "It is clear that listed companies in the manufacturing industry are more motivated to sell GDRs, compared with their counterparts in consumer and tech sectors," says Ge.
"Among overseas stock exchanges covered by the Stock Connect scheme, the SIX Swiss Exchange and the Frankfurt Stock Exchange are known for the relatively low valuation of listed companies on average and the small number of listed firms with innovation and high-growth business models."
The scope of depository receipt business needs to be expanded and relationships built with other overseas stock exchanges, especially ones friendly to consumer-focused and tech firms, she adds.
Chen, of Jingtian & Gongcheng, observes: "Neither the latest set of provisions nor the guidelines are applicable to red-chip enterprises applying for the issuance of depository receipts domestically. Overseas-listed red-chip enterprises seeking to return to the A-share markets through selling depository receipts still face a relatively higher threshold and less detailed rules."
With interconnection and the two-way opening-up of capital markets in mainland China and Hong Kong, the much awaited rollout of the Cross-boundary Wealth Management Connect (WMC) and Southbound Trading under Bond Connect last September have been stellar initiatives. However, the programmes aren't without problems.
Gao Wei, a Beijing-based partner at Haiwen & Partners, says that after operating for more than six months, there are several Connect mechanism trends that merit attention. "For instance, an individual investor quota of RMB1 million (USD149,400) under the WMC may be a limiting factor for the programme's attractiveness to eligible high-net-worth individuals," says Gao. "Investments via the Southbound Trading under Bond Connect are subject to a double whammy of price and exchange rate volatilities in overseas markets."
Ge, of Han Kun, says regulatory and legal issues to be closely watched under the Connect mechanism involve four areas: eligible investors; types of investments; remote account opening services; and cross-boundary marketing.
Referring to investment types, Gao says the investments via the Southbound Trading under Bond Connect dedicate the full quota to Hong Kong's bond market and range across all kinds of offshore debt securities issued abroad and traded in Hong Kong's bond market.
"Hence, the Southbound Trading under Bond Connect has played a significant role in improving the two-way opening up of bond markets and facilitating the balance of cross-boundary capital flows," Gao states.
According to Ge, operational data from the WMC shows the northbound scheme is more attractive than the southbound scheme, with nearly 88% of southbound scheme investors putting money in deposits.
Ge says the pandemic's ongoing impact has meant Hong Kong and Macau residents have had difficulty going to the mainland to open accounts under the WMC's northbound scheme. She says onshore and offshore institutions should avoid breaching tight restrictions on cross-boundary marketing practices.
Pressing ahead with investment-side reform in China's capital markets, the State Council and China Securities Regulatory Commission have announced a pilot programme for a new private pension scheme.
Under the scheme, individual pension accounts would be subject to closed-end management on a long-term basis. The private pension scheme's investment targets are financial products with safe operations, sophistication, stability, regulatory compliance, and a focus on hedging against inflation on a long-term horizon that can generally satisfy different investor appetites.
Pan Xinggao, a Beijing-based partner at Commerce & Finance Law Offices, says that such a scheme is aimed at the potential pension deficit resulting from the country's ageing population and demographic shift. By encouraging the participation of individual investments and enhancing the liquidity of individual capital, "private pensions have what it takes to become one of the significant incremental funding in China's capital market," he says.
Du Lili, a partner at Merits & Tree Law Offices, says that from a national perspective, the development of private pensions could further improve the country's multi-tiered, multi-pillar pension insurance system.
From the perspective of individuals, this could also diversify and expand pension product offerings, providing more options for citizens' retirement planning. From the perspective of the capital market, it facilitates mutual promotion between pensions and capital markets.
"This will help transform the traditional model of household financial management of focusing on making a quick buck with a short investment horizon," says Du. "Retirement-driven household financial management will switch to savings and investment for retirement over the entire life cycle."
Such a shift is a contributing factor to the growing expansion of long-term institutional investors, laying a solid foundation for the capital market serving the real economy with high quality, she adds.
Having witnessed the vagaries of onshore and offshore capital markets since the start of the year, Jason Xia, a Shanghai-based partner at Wintell & Co, has high hopes for the scheme as an anchor for capital market stability. "Considering how the private pension scheme positions itself and its investment risk appetite for wealth preservation and appreciation, it will engage in the capital market with more focus on investment stability and market fluctuations, thus serving as long and medium-term capital to play the role of stabiliser and enhance positive development of the capital market," says Xia.
Liu Wei, of Grandall, expects retirement-focused wealth management products to be an important future business for mutual funds and wealth management companies. Simultaneously, "in the long run, funds featured by equity and fixed-income investments have what it takes to satisfy the long-term horizon and profitability of pensions, where mutual funds are expected to make a big difference".
Liu Zhen, of Gunderson Dettmer, says: "Against the backdrop of the Russia-Ukraine war, uncertainty from global financial markets continues to pick up, with no jurisdiction immune from it. US-listed Chinese firms should be cautious and prudent, no matter whether they choose to delist from US exchanges on a homecoming journey, or seek listings in alternative destinations.
"The Sino-US competition will be long lasting, during which there will be easing [and] escalation of bilateral tensions," she adds. "Chinese enterprises will inevitably come under closer scrutiny. They should not take any chances and always remain cautious with speculative behaviour in the capital markets (whether in the US or elsewhere) to build themselves into companies that can stand the test."
Chen, of Jingtian & Gongcheng, has high expectations for China's post-registration capital market reform. "If China and the US cannot reach consensus over the issue of audit paper reviews, or geopolitical tensions continue to ferment," he says, "the comprehensive launch of the registration system will make the domestic market that much more attractive for homebound concept stock companies."
Huang Yanyu, a Beijing-based partner at Merits & Tree Law Offices, says how a company's business operations can survive and thrive is a serious issue. He has these points of advice for companies: understand the country's anti-pandemic strategy through proactive collaboration; resume production and ensure employees are emotionally stable with incentives to work; focus on the company's main businesses; put prudence ahead of expansion and investment; strip non-performing business with scientific management and cost controls; transform the development model in response to the nation's high-quality development strategy; decentralise the supply system and increase the safety of stock; maintain moderate liquidity; and stabilise liabilities at a reasonable level.
Xia, of Wintell, says the environment, social and governance (ESG) rating has come to the fore in capital markets. He advises listed enterprises to set up effective governance structures for ESG well in advance, whether to comply with regulatory requirements or shoulder social responsibilities.
Chen Yang, a Beijing-based partner at Han Kun Law Offices, uses three keywords – "activation", "nurturing" and "linkage" – to summarise what the founding of the Beijing Stock Exchange means for the market.
The Beijing Stock Exchange is generally compared with the Star Market and the ChiNext Board, since all are pilot boards under the registration-based IPO reforms. In deciding which board would-be listed companies should choose, Chen says factors such as industry position, financial indicators, the time required for review, and market performance should all be considered.
Zheng Chao, a Beijing-based partner at Merits & Tree Law Offices, says that because the Beijing Stock Exchange offers the route to board transfers, would-be listed companies don't need to make desperate attempts with undue haste, regardless of realistic conditions, to realise the dream of getting listed on the major boards of the Shanghai and Shenzhen stock exchanges.
Pan Xinggao, a Beijing-based partner at Commerce & Finance Law Offices, underscores the Beijing Stock Exchange's requirements for the asset scale of would-be listed companies, including a minimum of RMB50 million (USD7.5 million) in net assets at the end of the most recent year and a total minimum share capital of RMB30 million after listing.
Liu Wei, executive partner at Grandall Law Firm based in Shanghai, says the net profit of all 48 enterprises that have made debuts on the Beijing Stock Exchange throughout 2021 was more than RMB25 million, and for 43 companies was more than RMB30 million. That indicates that the listing threshold is higher in practice than in theory. (For example, companies with a profit of about RMB20 million are theoretically eligible for listing on the Beijing Stock Exchange.)
Pan stresses that "opting for a listing on the Beijing Stock Exchange requires the company to be equipped with business scale and a real need for floats, rather than just following the crowd. Otherwise, it will bear the risk of a listing failure and pay extra fees to professional agencies for listing services." Even if they manage to get listed, the annual maintenance cost is not a tiny sum for a fledging small company, he adds.
Chen says that under the registration-based IPO system it generally takes no more than six months for the Star Market and the ChiNext Board to review and respond to pre-IPO enquiries. For the Beijing Stock Exchange, the time is no more than five months. Since the Beijing bourse has sped up the review process since March this year, its review cycle will be much shorter in practice.
But Chen says listing entities of the Beijing bourse must have been listed on the National Equities Exchange and Quotations (NEEQ) innovation board for at least 12 months. Therefore, it takes much longer for companies that have not yet been listed on the NEEQ innovation board to make their debuts on the Beijing bourse than on the Star Market and the ChiNext Board.
This year, Chen has noticed that many companies seeking listings on the Beijing bourse have withdrawn their applications over issues mainly involving internal financial control, industry position, business performance, operational compliance and reliability of information disclosure.
Gao Wei, a Beijing-based partner at Haiwen & Partners, sums up: "In terms of listing review, business operations [are] the foundation, financial figures are the objective record, and compliance sets the boundary. Would-be listed companies should kick off their listing procedures only when the necessary prerequisites are in place. Especially for companies that are earlier in their development stage, smaller in size and more innovative, the mindset of 'giving it a shot' should be avoided."
By Sohia Luo on August 3 2022 for the China Business Law Journal.