FDI in China grows 17.4% in H1
09.08.2022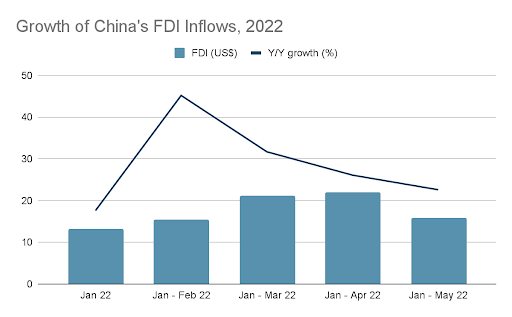 China remains an attractive destination for global investment, as latest data showed major economies including South Korea, the US and Germany continued to ramp up commitments to the Chinese market in the first half of this year, effectively disproving claims of capital outflow from China to other countries, The Global Times reports.
Although supply chains were disturbed in the first half of this year by the epidemic, China remained a growth engine for global multinationals, and the Chinese government has vowed to make China a place where foreign enterprises "dare to invest."
China's actual use of foreign direct investment reached 723.31 billion yuan ($107 billion) in the first six months of 2022, up 17.4 percent year-on-year. In dollar terms, foreign investment in China rose by $112.35 billion, a gain of 21.8 percent, data from the Ministry of Commerce (MOFCOM) showed on Friday.
Major economies remain glued to the Chinese market despite the fallout from the Omicron outbreaks, among other uncertainties. By source, South Korea ranked first, with growth of 37.2 percent, followed by the US with 26.1 percent and Germany with 13.9 percent.
The first-half growth number, albeit showing a slower pace than the first five months, is indicative of the foreign business community's sustained confidence about investing in China, experts said.
"The data points to still-buoyant foreign investor sentiment in the Chinese market regardless of global gloom at large. This slammed earlier reports that multinationals hailing from the US and European countries are fleeing the Chinese market and shifting their investment into other countries such as Vietnam and India," Zhou Rong, a senior researcher at the Chongyang Institute for Financial Studies of the Renmin University of China, told the Global Times on Friday.
The numbers speak volumes about China remaining a desirable investment destination for global investors, Zhou said.
By category, MOFCOM said the actual use of foreign funds in high-tech industries saw a 33.6-percent surge.
Investment from South Korea and Germany focused on high-tech fields, Chinese experts said, noting that chips and vehicles are core areas of foreign investment. The Regional Comprehensive Economic Partnership (RCEP) also plays an important role in bilateral trade.
South Korea's exports to China totaled $13.4 billion in May this year, while imports from China reached $14.9 billion, according to South Korean customs statistics, as experts said that chip cooperation between the two countries is "inseparable," noting that China has been South Korea's largest trading partner for 18 consecutive years.
German investment in China is more focused on automation, including green economy, as Germany is the most technologically advanced in this sector in the EU, Zhou noted, expecting further cooperation between the two countries.
BASF Coatings (Guangdong) Co said on Thursday that it has expanded production capacity for automotive refinishing coatings at its coatings site in Jiangmen, South China's Guangdong Province.
With the completion of the expansion, its annual production capacity of these products will increase to 30,000 metric tons, and the company said its environmental credentials and sustainable solutions have been well-recognized by the local government.
As for US investors, Tian Yun, former vice director of the Beijing Economic Operation Association, said US investment in China is mainly concentrated in the fields of new-energy vehicles and parts, as well as machinery and equipment.
Though there have been some investment outflows to Southeast Asian countries due to lower labor costs, it does not conflict with their investment plans in China, which is more about collaboration in high-tech industries and in line with China's innovation-driven development strategy, Bai Ming, deputy director of the international market research institute at the Chinese Academy of International Trade and Economic Cooperation, told the Global Times on Friday.
"Thanks to the integrity of China's industry chains and China's emphasis on innovation, these high-tech investors from Europe and the US can easily find suitable partners in China," Bai said.
MOFCOM attributes the growth to the fact that China has effectively coordinated epidemic prevention and economic and social development, which offered good prospects and broad opportunities for multinational companies.
Investing in China means a large market with 1.4 billion people including more than 400 million in the middle-income group, sound infrastructure, complete industrial support, abundant human resources and overall social stability, Chen Chunjiang, an official of MOFCOM, said at the briefing.
"The door of China's opening-up is wider, the negative list for foreign investment access is shorter, and the restrictions on access are less, bringing more investment opportunities for multinational companies," Chen said.
For instance, China lifted the foreign ownership limit on investment in the auto manufacturing sector, which has attracted auto companies including BMW, Volkswagen and Hyundai to expand their investment in China.
To improve the environment for foreign investment, MOFCOM revised or abolished 520 laws and regulations inconsistent with the Foreign Investment Law, further improving the legal environment for foreign investment.
A day ahead of the data release, a meeting of the Political Bureau of the Communist Party of China Central Committee was held on Thursday, which analyzed the current economic situation and arranged economic work for the second half of this year. The meeting said it is necessary to create a good policy and institutional environment, so that state-owned enterprises dare to work, private enterprises dare to venture, and foreign enterprises "dare to invest."
"The meeting was intended to make foreign companies feel relaxed about China's investment environment," Gao Lingyun, an expert at the Chinese Academy of Social Sciences (CASS) in Beijing, told the Global Times on Friday.
Western countries led by the US have taken political and economic measures to bring investments back to their own countries or make them leave China, putting the enterprises in a dilemma. Furthermore, China's dynamic zero-COVID policy was hyped and demonized by Western media, which also made investors hesitate, Gao said.
"It is the right time for the government to tell overseas enterprises that China's investment environment will not change, and China's opening-up policy will not change," Gao said.
The foreign investment figures are in line with recent earnings reports by US giants, as China continues its role as a growth engine for their global business, although the supply chain was affected in the first half of this year.
When talking about the performance in the Chinese market in the past quarter, James Quincey, chairman and CEO of The Coca-Cola Co, said volume was down for all months in the quarter, but the team persevered through a challenging environment, and recovery began in June as most restrictions started to lift.
In the Asia-Pacific, unit case volume grew by 11 percent, according to Coca-Cola, and the company gained value share in total beverages in the non-alcoholic ready-to-drink category, led by share gains in China, Japan and Australia. The company said it will continue to expand investments in supply chain development in China to drive growth potential through increased production capacity.
US-based electric car giant Tesla reported revenue of $3.79 billion in the Chinese market in the second quarter, up $928 million year-on-year.
The company said that the annual capacity of its Gigafactory in Shanghai is estimated to surpass the 750,000 mark this year, ranking first among Tesla's factories worldwide. Increasing the exports of vehicles manufactured at the facility has been effective to mitigate the strain on deliveries in markets outside the US, it added.
Most US-based companies, in particular those involved in new-energy vehicles and machinery and equipment, are expanding in China, eyeing the opportunity provided by China's market size, Tian said.
In remarks to a forum on global consumption innovation during the China International Consumer Products Expo on Tuesday, Matthew Margulies, senior vice president of China operations for the US-China Business Council, said that China has a huge consumer market and US firms are hoping for a slice of the market's growth opportunities.
As China continues to open its door to overseas players, more overseas fund management firms are coming to China to start their businesses.
With US-based Thornburg Investment registering as a Qualified Domestic Limited Partnership in recent days, the number of fully overseas owned private equity fund management firms having completed registration at the Asset Management Association of China has reached 37, the China Securities Journal reported on Friday.
A total of 37 fully overseas owned private equity fund management firms have now completed registration at the Asset Management Association of China, with the US-based Thornburg Investment registering as a the Qualified Domestic Limited Partnership (QDLP) in recent days, China Securities Journal reported on Friday.
Drawn by China's vast savings, more overseas fund managers will come to China to start their businesses as China continues to open its door to overseas players, analysts said.
The arrival of Thornburg Investment, which manages $42 billion, came as more overseas fund managers are expanding their footprints in China, with US-based PE major KKR registering a fund at AMAC in May and another by Wellington finishing registration in July.
The list of overseas fund managers kept growing in the past five years, and Bridgewater (China) Investment Management Co, set up by global leading hedge fund Bridgewater Associates, now manages over 10 billion yuan ($1.48 billion) worth of funds in China.
Dong Shaopeng, a senior research fellow at the Chongyang Institute for Financial Studies at Renmin University of China, told the Global Times on Friday that despite the growing momentum, it is to be noted that at current stage overseas investment companies are only testing the water and will accelerate their pace of expansion in the Chinese market.
The newspaper said while overseas fund management firms are expanding their footprints in China, global investors are also eyeing the Chinese A-share market.
Data from the iShares core MSCI China ETF, which tracks the investment results of an index composed of Chinese equities that are available to international investors, indicated a net capital inflow of $680 million in the past month, the newspaper reported, citing data from ETF.com.
Analysts said with the Chinese economy staging a rebound since June, the Chinese equity market has become a favorite investment destination for overseas capital seeking value investment.
Reported on July 29 2022 by the Global Times (China).