China records steady FDI growth in 2022
23.01.2023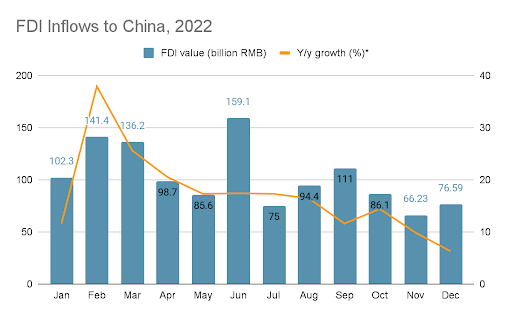 Foreign direct investment into China slowed in 2022 compared to the previous year, but growth nonetheless remained steady. Manufacturing and high-tech industries continued to attract high levels of foreign investment despite the overall economic slowdown, and some regions, such as the EU, increased investment in China significantly. We break down the latest data for FDI in China and discuss what may be in store for 2023 as the country sets its sights on growth.
China's FDI data, which were released on January 18, 2023, by the Ministry of Commerce (MOFCOM), shows FDI inflows into the country slowed but remained "steady" in 2022.
The slowdown has most likely been caused by the sporadic COVID-19 outbreaks and stringent control measures imposed over the course of the year, which has knocked business confidence in the China market. Nonetheless, investment into certain industries and from certain regions grew rapidly in 2022, showing that China remains an attractive destination for many investors.
As the country enters a new post-COVID era, the government is now laser-focused on economic growth and is thus eager to attract more foreign capital in 2023.
In 2022, China's actual use of foreign capital reached RMB 1.2 trillion, up 6.3 percent from the previous year. In US dollar terms, it reached US$189.13 billion, a year-on-year growth rate of 8 percent.
This is a marked slowdown from 2021, when FDI grew 14.9 percent and 20.2 percent year-on-year in RMB and US$ terms, respectively.
Looking at the breakdown for 2022, we can see that growth in FDI inflows slowed throughout the year, peaking at a rate of 37.9 percent year-on-year in the period from January to February and slowing to 6.3 percent year-on-year from January to December, in RMB terms. June saw the largest inflows of FDI in terms of value, with RMB 159.1 billion (approx. US$23.5 billion) being absorbed that month.
Data on the number of foreign-invested enterprises (FIEs) in China at the end of the year has not yet been released. According to the State Administration for Market Regulation (SAMR), there were a total of 66,800 FIEs at the end of August 2022, a significant increase from the 48,000 registered at the end of 2021.
Certain industries saw above-average rates of investment growth in 2022. Actual use of foreign capital in manufacturing reached RMB 323.7 billion (approx. US$47.8 billion), a year-on-year increase of 46.1 percent. This accounted for 26.3 percent of all foreign capital used in the country in 2022, which is a proportional increase of 7.8 percentage points from 2021.
Meanwhile, high-tech industries increased by 28.3 percent year-on-year and accounted for 36.1 percent of all utilized foreign capital. Of this, electronic and communication equipment manufacturing increased by 56.8 percent, transformational services based on scientific and technological achievements increased by 35 percent year-on-year, and information services grew by 21.3 percent year-on-year.
Transformation services based on scientific and technological achievements refer to activities such as testing, development, application, and promotion that are carried out to develop new technologies, processes, materials, products, and industries for the purpose of increasing productivity.
The main sources of FDI inflows to China continued to see steady growth. The countries that saw a relatively high increase in investment in China included South Korea, Germany, and the UK, with investment increasing 64.2 percent, 52.9 percent, and 40.7 percent year-on-year, respectively.
Investment from the EU also saw rapid growth, with investment from the bloc increasing by 92.2 percent year-on-year, a significant reversal from the 10.4 percent year-on-year decrease seen in 2021.
Meanwhile, investment from Belt and Road countries (a broad range of countries that includes 16 in western Asia, nine in South Asia, and five in central Asia) grew 17.2 percent and investment from the nine ASEAN countries grew 8.2 percent.
MOFCOM did not provide specific data on the volume of FDI in China from each region or the proportions of overall FDI from each country or region.
Investment into China's central and western regions grew at an above-average rate in 2022. The actual use of foreign capital in the central provinces (Shanxi, Anhui, Jiangxi, Henan, Hubei, and Hunan) grew by 21.9 percent year-on-year, while the western regions (Inner Mongolia, Guangxi, Chongqing, Sichuan, Guizhou, Yunnan, Tibet, Shaanxi, Gansu, Qinghai, Ningxia, and Xinjiang) grew by 14.1 percent year-on-year. These growth rates are 15.6 and 7.8 percentage points higher than the national average, respectively.
Among these regions, four provinces and autonomous regions experienced particularly high increases: Shanxi (229.6 percent), Henan (119.8 percent), Guangxi (49.1 percent), and Shaanxi (33.6 percent) experienced particularly high increases.
Finally, around 53 percent of the actual use of foreign capital in 2022 went to large projects with contractual foreign investment of over US$100 million. These projects received a total of RMB 653.5 billion (approx. US$96.4 billion) in 2022, a year-on-year increase of 15.3 percent.
Key takeaways
As mentioned above, FDI inflows slowed significantly in 2022 compared to 2021, and also slowed over the course of the year from a relatively strong first quarter. This is likely due to the impact of continuous COVID-19 outbreaks and the subsequent implementation of control measures throughout the year. Although there were some COVID-19 outbreaks at the beginning of the year, they began in earnest in the second quarter with the lockdown of Shanghai in April and persisted sporadically until the lifting of restrictions in November and December.
At the same time, the very high growth rates seen in 2021 are partly due to the low base effect from 2020, when the pandemic significantly impacted economic activity. The 2022 numbers are in turn also adversely affected by the high numbers recorded in 2021.
With regard to the regions that are seeing a higher level of FDI inflows, China has made efforts to promote investment in its lesser-developed regions, such as central, western, and northwestern provinces and autonomous regions, in order to improve industry and living standards in these areas. The acceleration of investment into these areas may indicate that its efforts are paying off.
Meanwhile, the rapid acceleration of FDI from the EU may be due to advancements in bilateral relations between China and countries in the bloc, marked by the meeting between German Chancellor Olaf Scholz and President Xi Jinping in November. However, without a breakdown of FDI inflows from the EU over the course of the year, which has not yet been released, it is difficult to assess the impact this may have had on the confidence of EU businesses in the China market.
FDI in China in 2023
With the lifting of COVID-19 restrictions in late 2022, China has shifted gears to focus intensely on economic growth in 2023. Several Chinese officials, as well as official policy documents, have espoused the important role that foreign capital will have for China in reaching its economic targets this year.
The 2022 Central Economic Work Conference (CEWC), for instance, an annual meeting of China's top leaders that sets the economic agenda for the following year, highlighted the need to increase foreign trade and investment cooperation to stimulate growth. The CEWC has proposed expanding market access as one of the means to increase foreign investment in China.
Meanwhile, several Chinese officials have continued to embrace pro-foreign business rhetoric, calling for improving the business environment to make it more attractive to foreign investors. As recently as Tuesday, January 17, Vice Premier Liu He gave a speech at the World Economic Forum in Davos, which stated that China will continue to promote market opening, and also called for attracting foreign investment.
A week earlier, China's Commerce Minister Wang Wentao gave remarks via video link to the U.S.-China Business Council President, in which he stated that "China is willing to listen to the views of foreign enterprises, including those from the United States, on a regular basis, and will continue to improve a market-oriented, law-based and international business environment".
China's strict COVID-19 measures have knocked the confidence of many foreign companies and investors, and it will take some time for China to rebuild that confidence. The lifting of COVID-19 restrictions is an important first step in restoring business confidence in the Chinese market. At the same time, although none have been announced yet, it is likely that the government will introduce new incentives and beneficial policies for foreign investors. These could potentially target key development zones and noteworthy emerging and high-tech industries and help to boost foreign investment in 2023.
By Arendse Huld on January 20 2023 for the China Briefing.