Growing overseas orders of domestic firms keep stevedores busy at Chinese ports
05.04.2021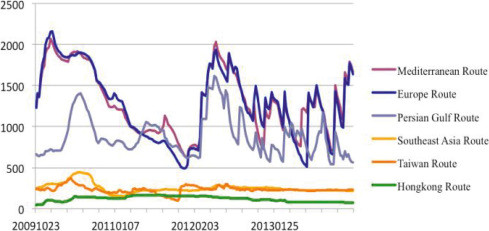 In the Chuanshan port zone at Ningbo-Zhoushan Port, Zhejiang province, thousands of ocean shipping containers are waiting to head out to sea as demand for goods remains high at home and abroad.
"Our employees have been busy, and haven't had much time to relax over the past two months, even during the Spring Festival holiday," said Chen Sheng, a deputy director with Ningbo-Zhoushan Port Group, adding that the company also added two international shipping routes-including one with service to Sakhalin Oblast in Russia-this year to reach more destinations worldwide.
With a total of 262 container shipping routes, throughput at Ningbo-Zhoushan Port surged 52.4 percent on a yearly basis to 2.35 million twenty-foot equivalent units in February, reaching a historic high, the company said, and its need for empty containers is high.
Similar to Ningbo-Zhoushan Port Group's move to boost its supply of shipping containers through import channels and support domestic trade through sea-rail transport and cooperation with airlines, all major domestic ports-such as in Shenzhen, Guangdong province; Xiamen, Fujian province, and Tianjin-have been doing the same to ensure smooth running of the world's supply chain and meet massive domestic demand.
Shanghai Port has already set a goal of reaching container throughput volume of 44 million TEUs this year to maintain its position as the world's largest container port by capacity.
Ports in Shandong province, such as Qingdao, Weihai and Rizhao, handled more than 115 million metric tons of cargo in February, up 12.1 percent on a year-on-year basis, while container throughput at its ports hit 2.22 million TEUs, surging 13.8 percent on a yearly basis, according to Shandong Port Group Co Ltd.
The heavy workload at Chinese ports reflects the country's ability to achieve growth in foreign trade, and manage to restore export orders while stimulating domestic demand, leading to a rebound in imports, said Lin Jiantian, director-general at the department of commodity inspection at the General Administration of Customs.
Many Chinese firms' growing orders from abroad have also kept their workers, logistics service providers, material suppliers and Customs officials busy this year, and this trend will create more confidence in the prospects of export growth and economic recovery for the rest of the year, said Sang Baichuan, an economics professor at the University of International Business and Economics in Beijing.
Even though the COVID-19 pandemic has disrupted global investment and industrial chains, China was able to register better-than-expected foreign trade performance since June last year. It was able to produce and export supplies to other countries after its strict and effective prevention and control measures over the disease were effective, said Chen Bin, executive vice-president of the China Machinery Industry Federation in Beijing.
The country's foreign trade soared 32.2 percent on a yearly basis to 5.44 trillion yuan ($837.3 billion) in the first two months of the year, said the GAC.
In the meantime, China's exports soared 50.1 percent on a yearly basis to 3.06 trillion yuan over the period while imports were up 14.5 percent year-on-year to 2.38 trillion yuan, Customs data showed.
Despite many Chinese companies raising output, they also bore the pressure of growing labor and shipping costs as well as price rises of imported materials to produce goods for stay-at-home products and other key goods-from laptops to toilet paper-Chen said.
Although China is exporting more containers, the return rate is slow. Li Muyuan, secretary-general of the Beijing-based China Container Industry Association, said many Chinese ports have already begun the competition to attract empty shipping containers-new and old-to their ports by offering them benefits such as extending exemption periods for heavy containers and cutting or exempting service fees for ships and other related expenses.
The pandemic has changed the global port and shipping business, railway transport, regional economic restructuring and innovative activities in certain parts of the world, Li said, adding that many ports have already adopted digital technologies to better collect container information, improve the overall heavy load rate of trucks and boost terminal operating efficiency.
To resolve the shortage of cold chain containers and dry cargo containers, Mai Boliang, chairman and CEO of China International Marine Containers (Group) Ltd, said the company has already raised monthly container production volume from more than 200,000 units to over 400,000 units.
In addition to producing standard shipping containers that are 500 kilograms lighter than foreign containers and come with a cheaper price tag, Shenzhen-headquartered CIMC has already invented a high-end storage compartment featuring constant temperature maintenance that can be used aboard container vessels, freight trains or via airfreight to ship vaccines to different parts of the world.
With vaccinations becoming the norm around the world and effective control of the pandemic increasingly evident, he predicted that the return of empty containers will gradually return to normal around June, and supply and demand conditions will achieve a balance, further easing pressure on port operators in China.
"With China soon becoming the biggest consumer market in the world, we expect that some of that demand from consumers will also benefit companies exporting to China," said Caroline Wu, managing director for China operations at Maersk, the shipping unit of Denmark-based A.P. Moller-Maersk Group.
By Zhong Nan on April 1 2021 for the China Daily.